PA Week 2018
Date: October 6, 2018
-
October 12, 2018
We hope you will kick off this great week by using our PA Week Facebook profile picture frame!  We encourage all members to use this frame over the next week to show your love of our great profession!  You can find the frame on our Facebook page
Below is an example photo, featuring our President, Annie Rutherford, PA-C, MSPAS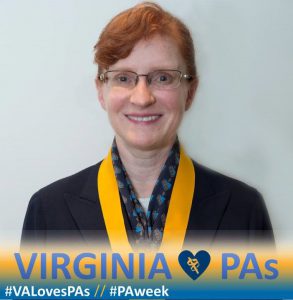 VAPA is also happy to announce that we now have an Instagram account!  Connect with us on Instagram at vapaorg!  Over PA week (Oct 6-12) VAPA wants to see how you are celebrating, so make sure to tag us in your photos or use the #VALovesPAs in your photo posts!
This year we would love to see member photos of why you LOVE being a PA in Virginia! The VAPA member (PA or PA student) that tags us in the most creative photo showing why they LOVE being a PA in Virginia will win a prize from VAPA.  Photos can be shared via Facebook or Instagram!  The winner will be announced on October 13!
This year we will be sponsoring a photo contest for our eight great PA programs.  Starting tomorrow we will be posting submitted photos from the Virginia PA programs to obtain likes from our followers on Facebook and Instagram!  The Virginia PA program with the most photo likes on the VAPA post by October 12, 2018, at 11:59 PM will be declared the winner and will be announced on October 13!  Make sure to show your support for our PA programs and future PAs!